3DS v2
DNA Payments' compliance to 3DS v2
DNA Payments acquiring service is fully compliant with 3DS v2, and our merchants can be safe knowing that we've got them covered with a secure, streamlined and frictionless payment authentication process.

To help our merchants and partners understand more about 3DS v2, we've prepared some questions and answers below, which outline our compliance with 3DS v2.
Will DNA Payments' merchants be affected?
Merchants that use DNA Payments acquiring services will not be affected directly by the change, as we are already using 3DS v2 with all of our applicable payment solutions, making us fully compliant.
Furthermore, no online transactions will be affected by the change. There's nothing further merchants using DNA Payments' direct acquiring need to do, as all DNA Payments direct acquiring customers already use 3DS v2.
If you're not using DNA Payments' direct acquiring, please check with your acquiring provider to see if they support 3DS v2.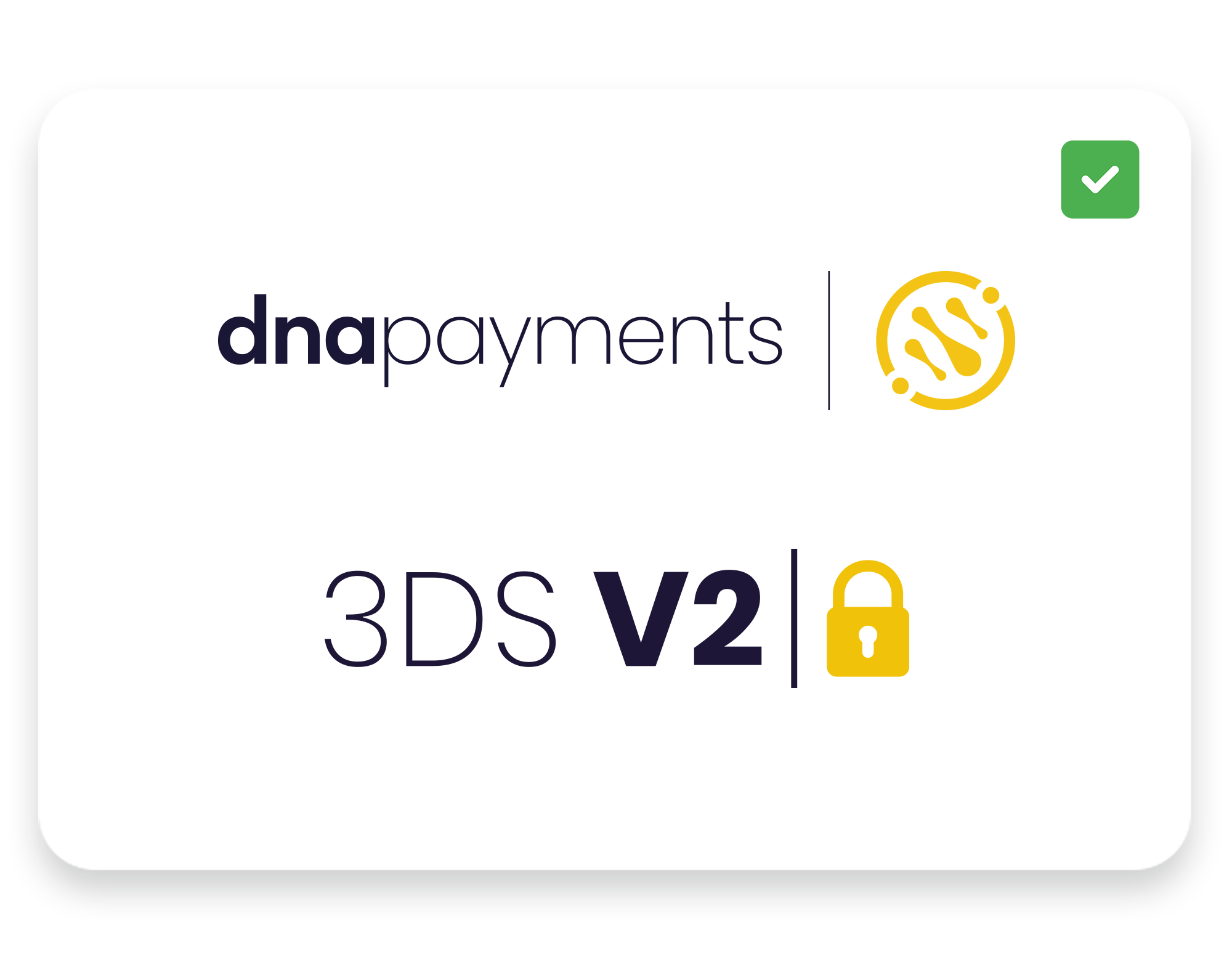 DNA Payments' compliance to 3DS v2
We understand that merchants need a quick, easy-to-use, secure authentication process compatible with modern mobile browsers, providing a user-friendly buying experience without frustration.
That's why all our online payments are 3DS v2 Compliant at their core from their very beginning, giving customers a streamlined payment authentication process that meets the needs of a new era of convenient mobile payment methods and reduces card abandonment and checkout times.
With frictionless flow, payment authentication can be made in the access control server (ACS) without the customer's input, meaning fewer pop-ups, passwords and annoying additional steps.
As well as quicker mobile payments and a more user-friendly experience, increased security and reliability brings confidence in mobile payments as a reliable payment method they can adopt.
What's 3DS v2?
Card issuers must follow the new 3DS v2 requirements introduced by payment schemes when approving or declining transactions.
The new 3DS v2 protocol is an improved design over v1 that dramatically increases the user experience on mobile devices by being fully compatible with mobile wallet applications and in-app transactions, meeting the Strong Customer Authentication (SCA) compliance under PSD2.
Why has the change happened?
3DS v2 involves more data exchange between acquirers, payment schemes and issuers. The increased data provides issuers with better data analytics, more comprehensive data and better online payment approvals resulting in a much better user experience.
What payments will be affected?
If your acquirer isn't 3DS v2 compliant, your payments will be affected unless they are online card payments or face-to-face payments, which won't be affected by the change.
Which payment schemes are affected, and what's the deadline?
Payment scheme deadlines for the change to 3DS v2 include Mastercard on the 14th of October 2022; and Visa and American Express on the 15th of October 2022.
What benefits are there for merchants?
Merchants will benefit from the move as it will involve less fraud, much higher security standards, and a better consumer payment flow, providing their acquirer supports 3DS v2.
What happens if an acquirer hasn't implemented 3DS v2?
From the deadline dates, any acquirers that don't comply with 3DS v2 will no longer be supported, as they will still be using 3DS v1, which will effectively be switched off, affecting transactions which will get rejected by card issuers as a result.
Why's v1 no longer valid?
Although it's compliant, 3DS v1 is unpopular with consumers, causing significant issues for merchants in the modern, mobile-friendly age of payments, as it was established before mobile devices were accepting payments
What to learn more?
Get in touch, and we'll happily provide additional details and guide you through 3DS v2 and how being with DNA Payments' acquiring can benefit your fraud security as a merchant