Manage your business in real-time
Merchant Portal
Our easy-to-use Merchant Portal functionality gives you complete control of your business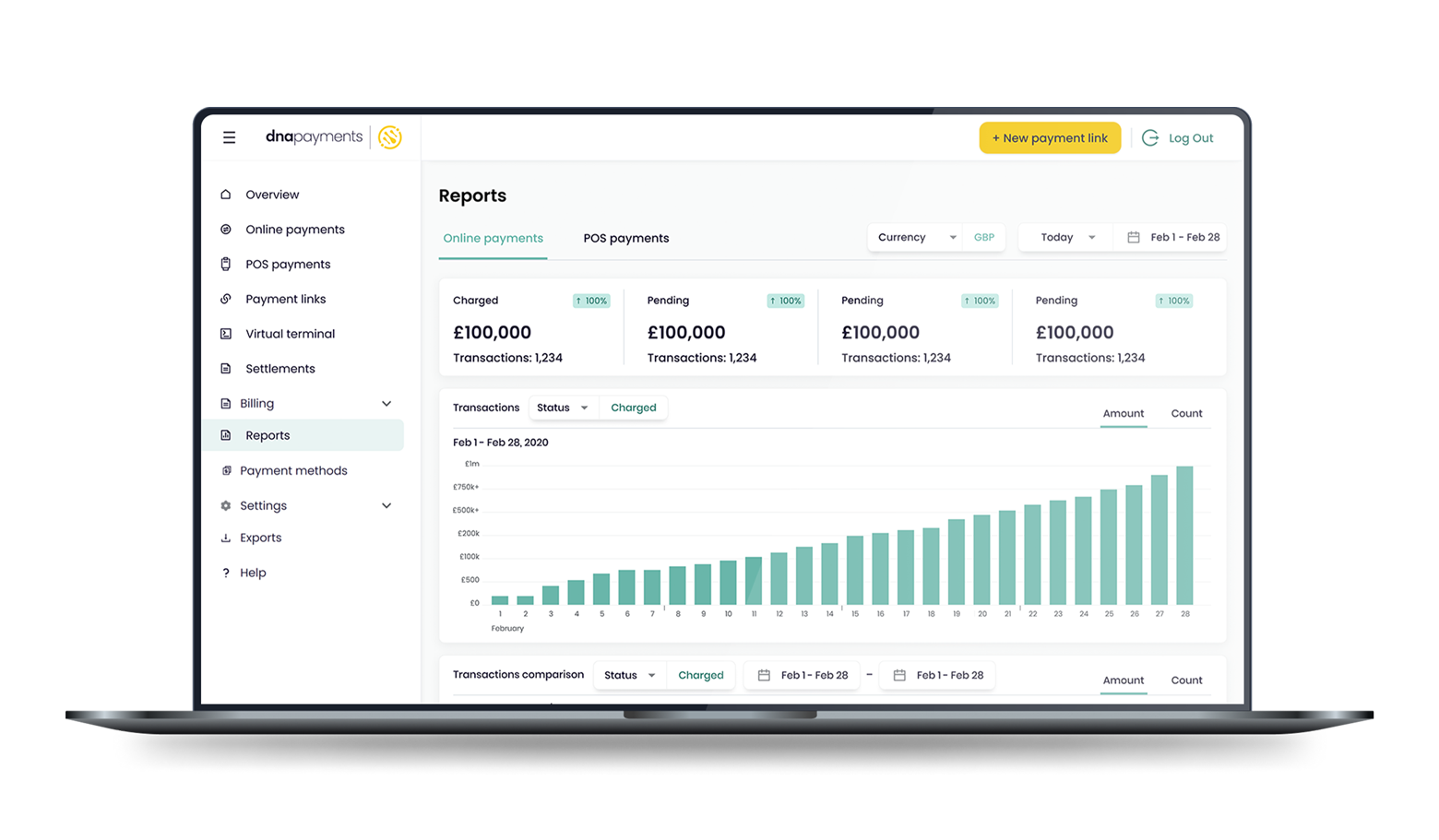 Merchant Portal
Fits seamlessly into your business
Our Merchant Portal fits seamlessly into any business's payment ecosystem. We understand every business is different, so we've created our Merchant Portal with this in mind, ensuring you've everything you need to get the job done.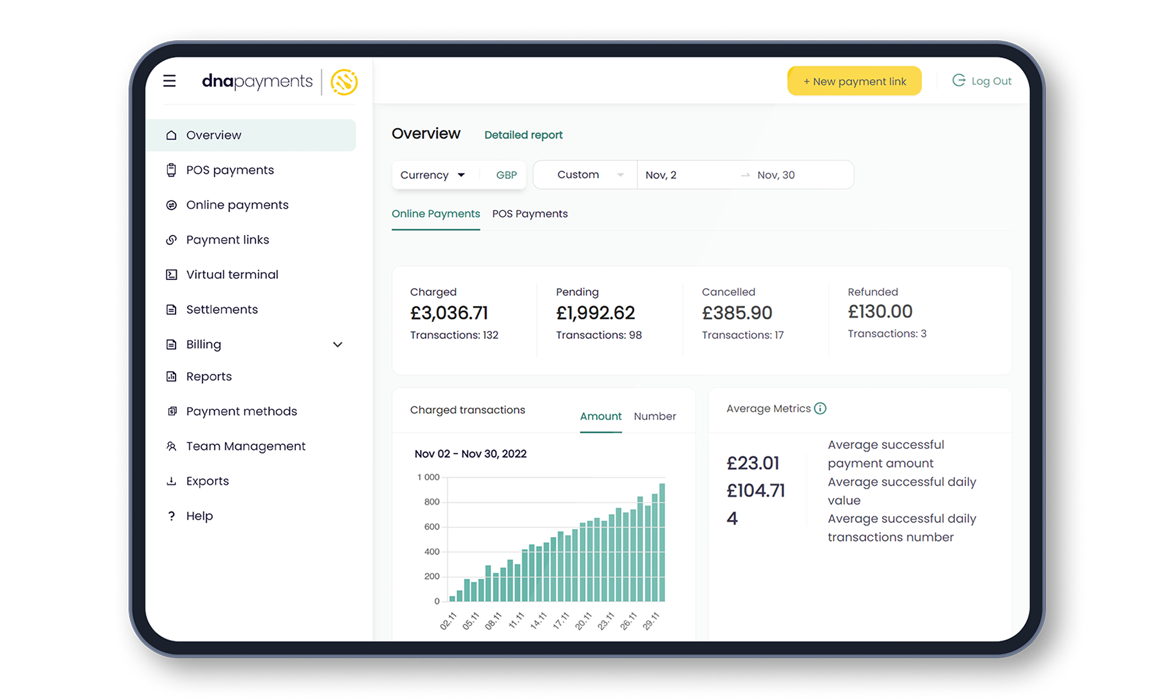 Explore the DNA Payments Merchant Portal
Monitor, track and manage
Our Merchant Portal lets you access your business's analytics all in one place. Once set up, you can track transactions, authorise refunds, pull sales reports and more.
Refunds and cancellations

Track and monitor
Track and monitor your POS and online transactions from one convenient location

Refunds and cancellations
Refund, partial refund and even cancel customer transactions with ease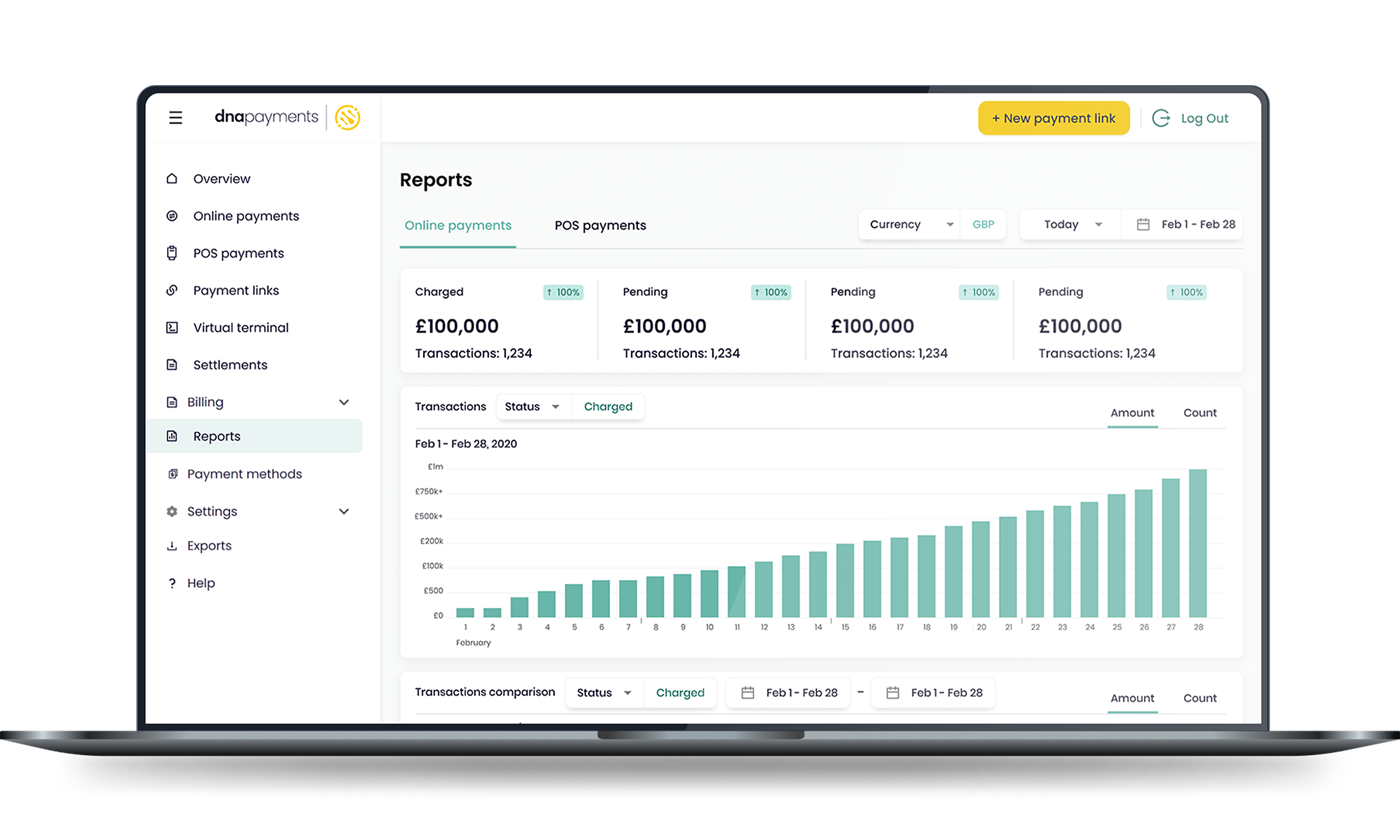 Business reports
Pull business reports such as sales, product and staff performance and more
Full of features and functionality
Payment Links
Accept payments online without using a website. Use our Merchant Portal to create and send a Payment Link to your customer. Our Payment Link solution is the perfect way to accept payments online and can be done using email or any other online communication method your business prefers. Safe, secure, and easy to set up, we've the solutions for every business's needs, even without owning a website or brick and mortar store, 24/7 and from anywhere.
Payment Links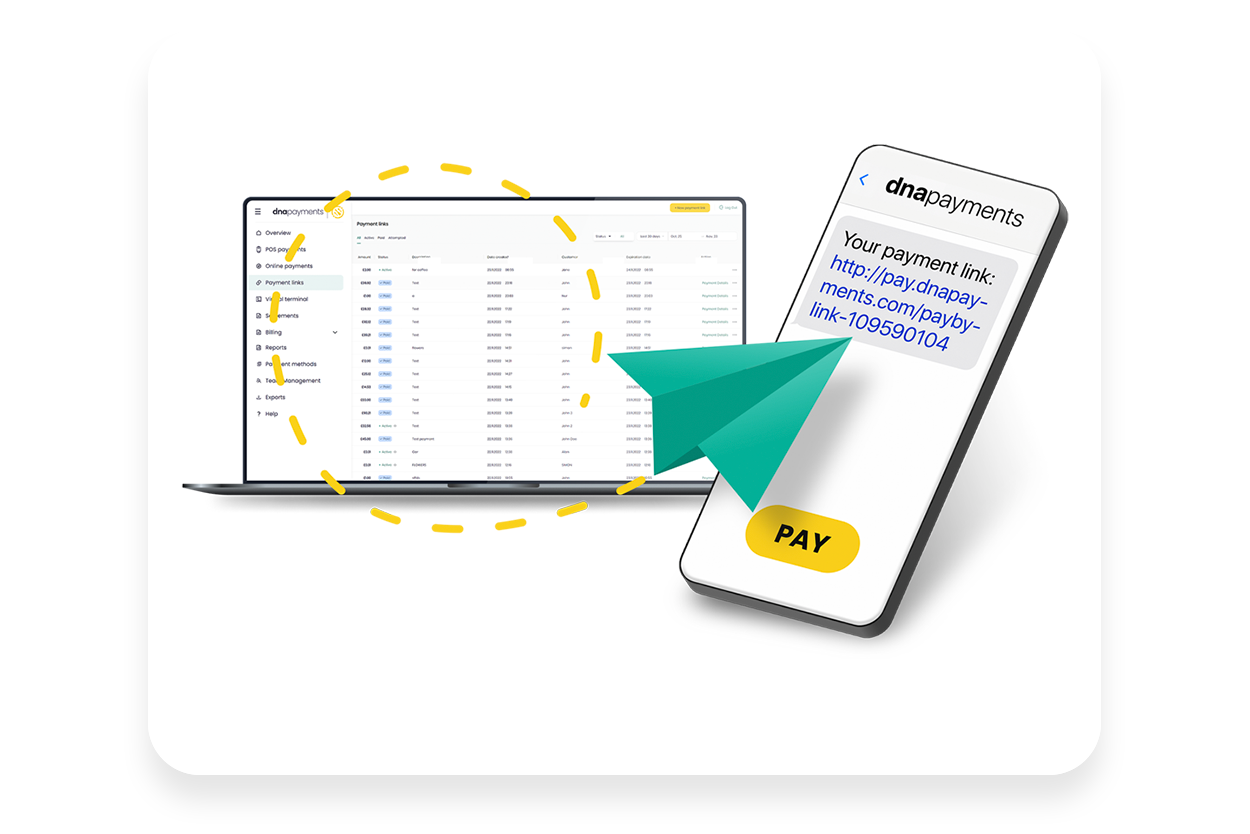 Virtual Terminal
Accept seamless, quick, and secure Online Payments via phone or email, using your computer or digital device remotely. Perfect for remote business, the Virtual Terminal Online Payment Solution can easily be set up on our Merchant Portal, and it's quick and easy to accept payments. Use your digital devices, such as your laptop or phone, and you can be accepting payments seamlessly in a few simple steps, so no matter what business type you are, we've got you covered.
Virtual Terminal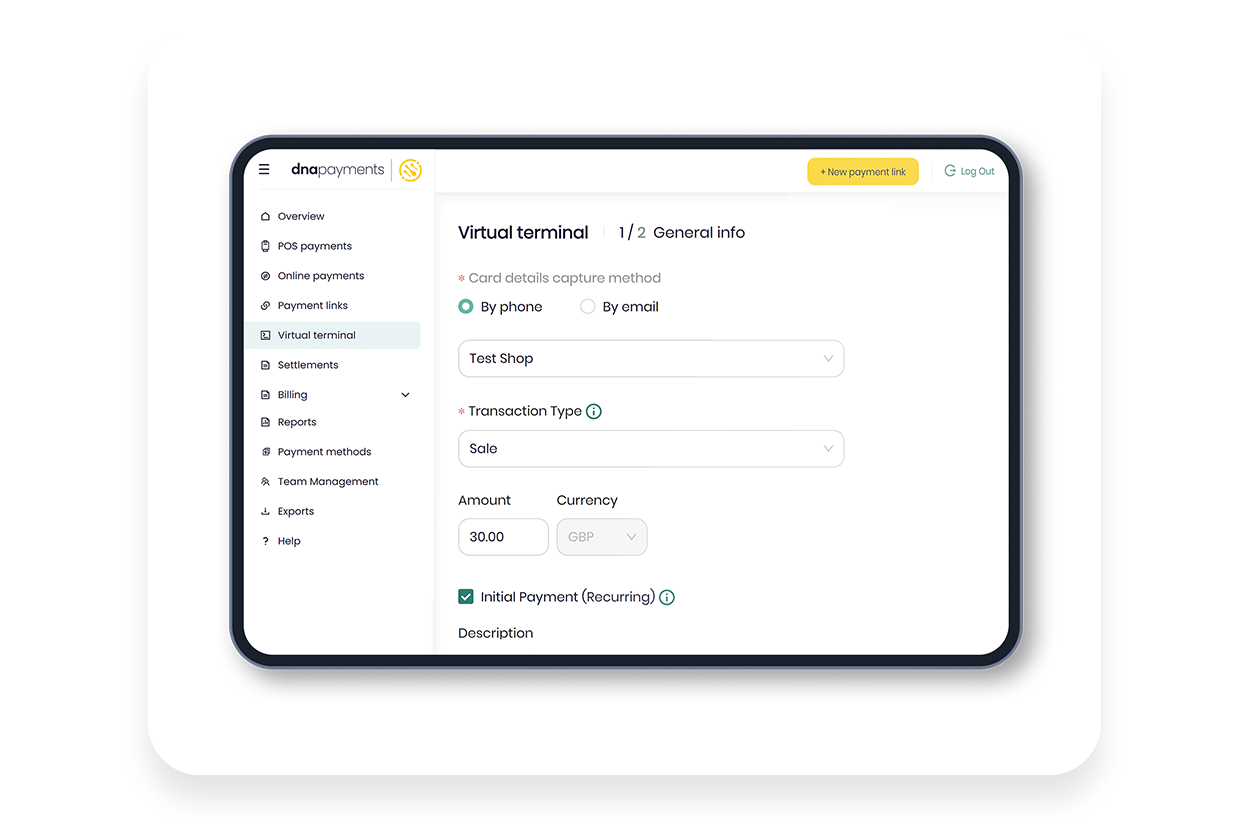 Payment methods management
Manage your payment methods by easily integrating your solutions to a range of popular payment methods, such as Apple Pay, PayPal, Klarna, etc. We're partnered with the best payment methods in the sector to ensure your business has everything in place to provide quick, secure and easy payments, no matter what scenario your customer prefers. Whether it's spreading the cost of an item, paying using a mobile device, or via a few quick steps, our solutions can be tailored to your business's needs, hassle-free and ensuring a seamless buying experience.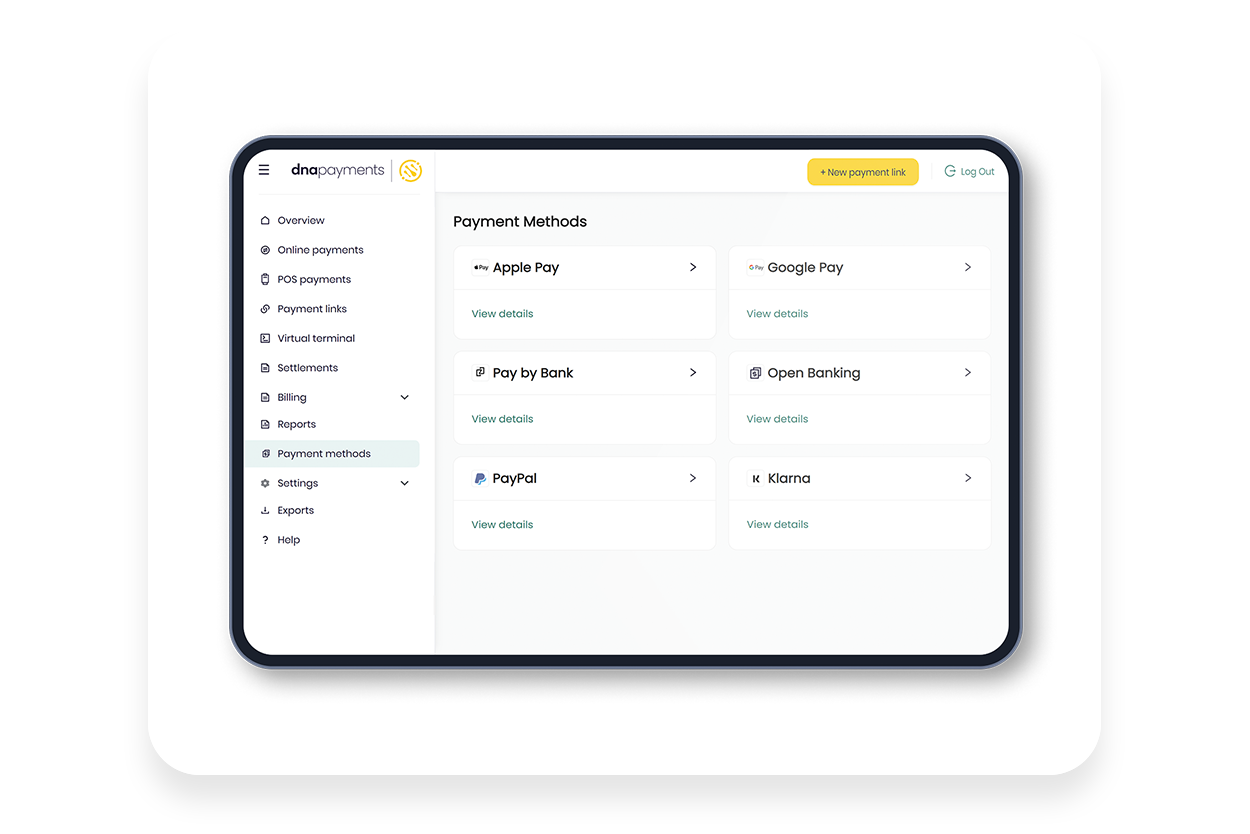 Online chat support
Have a query about your new Payment Solution or need help from one of our experts? Get in touch with us today to get assistance. Our support team are here for you to ensure any questions you may have are answered and you're 100% up and running with your Payment Solution, hassle-free. Just use our chat function to send us any queries you may have, and we'll be happy to help, with a team of experts that have the know-how to every step of your journey with us.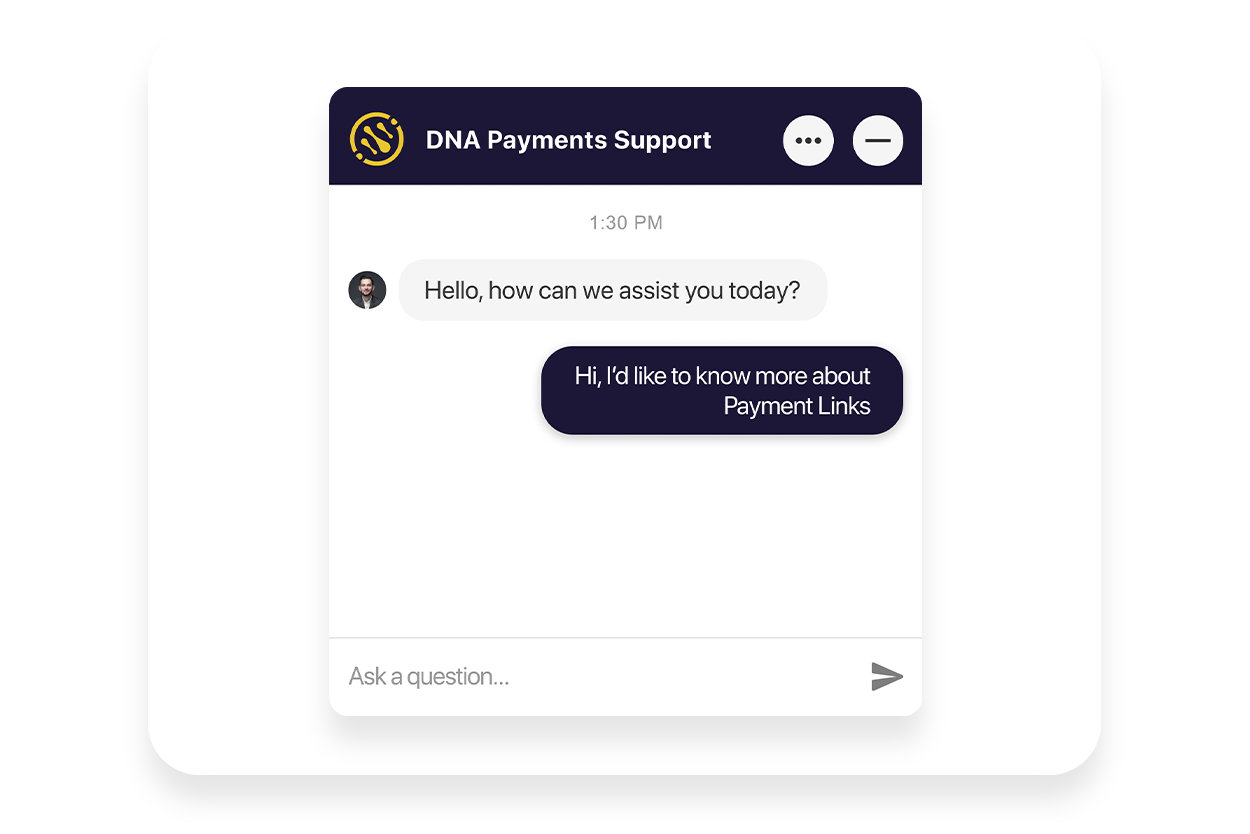 How to get access
Once your applications with us is approved, you'll receive an email with your Merchant Portal Access details
Whatever solution you use, our Merchant Portal gives you the control and insight you need to manage, monitor and track your business's activity, letting you focus on what you do best
Select your solution
Select the perfect Payment Solution for your business's needs
Get onboarded
Our team will walk you through the steps to get you onboarded and using our Merchant Portal and your Payment Solutions
Get access
Once your application with us is approved and signed, you'll receive an email with your Merchant Portal Access details
Multi-user invites
Our Merchant Portal allows merchants to invite new users and assign access and roles, helping businesses manage their payments efficiently.
We understand businesses need multiple users with varying roles and disciplines to manage, view, report, and track their payments and settlements. We enable merchants to invite and remove new and existing users effortlessly by unlocking multi-access users.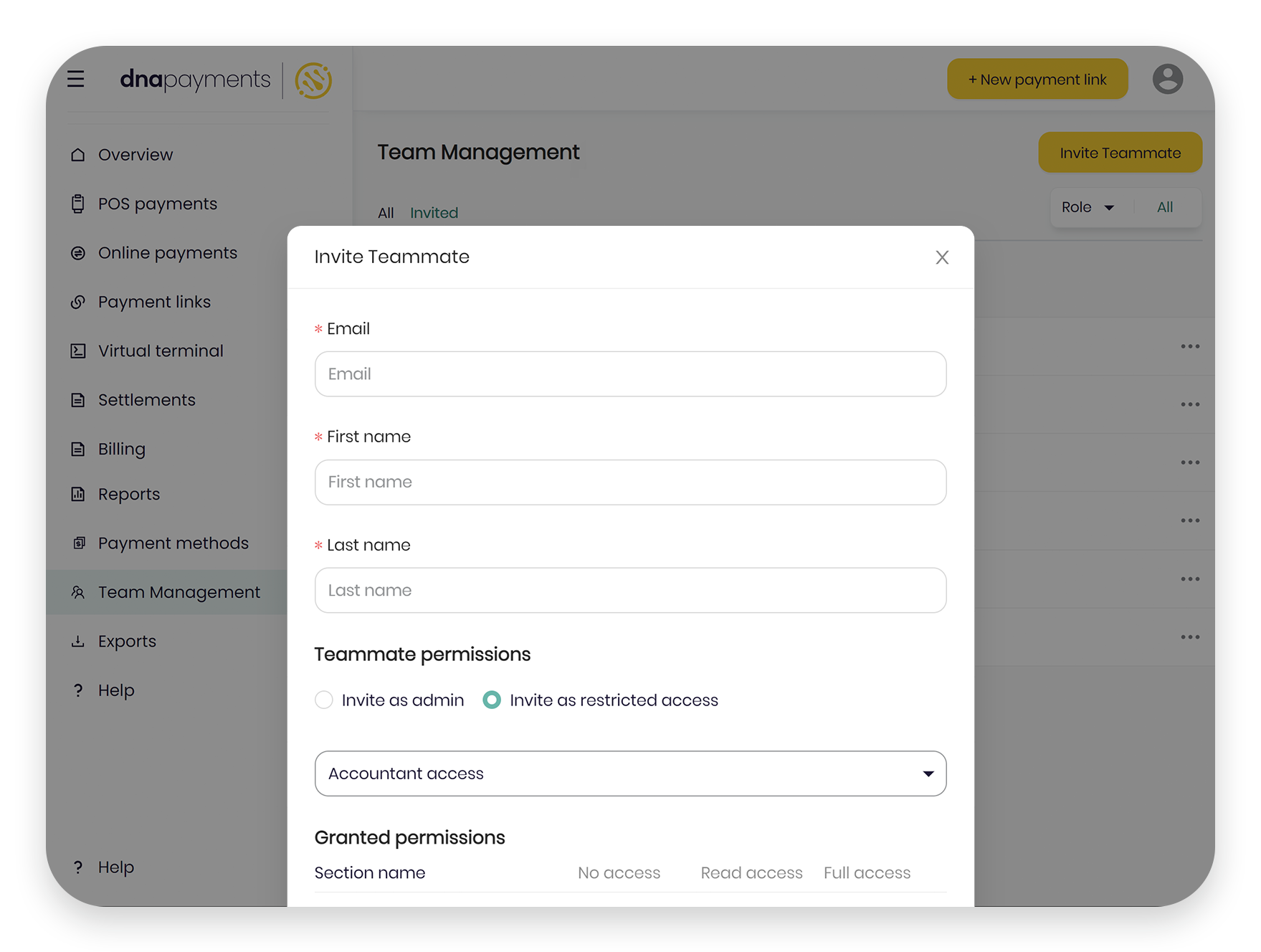 How to get access
Once your application with us is approved, you'll receive an email with your Merchant Portal Access details
Monitoring your payments
Our Merchant Portal provides real-time updates for each Payment you're processing. To view your Payments, select either Online Payments or POS Payments (depending on which solution use are using) on the Menu navigation bar on the left-hand side of the screen, and you'll be able to monitor each Payment and its status.
Managing your payments
Our Merchant Portal provides you with additional tools so you can manage your transactions easily, especially if you're using our Online Payments or Pay by Link solutions
Settlements
Any transactions successfully processed through our Payment solutions are automatically settled to your Bank Account within the Settlement Period as per your Acquiring Agreement
Payment Links
Pay by Link is a convenient, easy-to-use solution available for you to accept Online Payments without needing a website
Virtual Terminal
Our Virtual Terminal allows you to accept Payments via your computer or device without the need for physical card machine hardware - an ideal solution for businesses that accept Payments over the Phone, Email or perform remote billing
Online chat support
We're always here to support you with every step of your journey along the way. If you've any queries, please don't hesitate to get in touch via the online chat on our Merchant Portal, where our team of experts will answer any questions you may have in real-time.
Request a demo
We'll be happy to give you a demo, more details and pricing options for our payment products